Expertise

in rubber
products manufacturing!

GOMMA Line is an IATF 16949, ISO 9001, and ISO 14001 certified manufacturer of rubber parts prevailingly for the automotive industry. Our product line includes extruded rubber profiles, molded rubber products, brake, and hydraulic clutch hoses as well as tools for rubber extrusion and molding manufacturing processes. Our manufacturing facilities are equipped with extrusion, vulcanization, flocking lines, injection molding machines, as well as CNC machines for metalworking.
WHY US?
Flexibility, top quality, and innovative technology in rubber manufacturing!
GOMMA Line meets the demands of Industry 4.0 and concepts of Lean manufacturing. Starting out as a rubber products and parts manufacturer, trusted by companies from automotive and home appliances industries, GOMMA Line has accumulated and consolidated expertise in rubber technology, tool design, and process optimization. We offer support in rubber parts design that will optimally meet product requirements.
---
16.951.766
parts produced in 2019.
2
production plants in
Serbia and Russia
40
OEM and TIER 1 customers worldwide

Serbia
Kragujevac
Plant
19. oktobra 2
34000 Kragujevac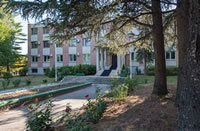 Italy
Reggio Emilia
Sales Office

France
Dijon, Bourgogne-
Franche-Comté region
Sales Office
Kragujevac, Serbia
Plant
19. oktobra 2
34000 Kragujevac
---
Reggio Emilia, Italy
Sales Office
---
Dijon,
Bourgogne-Franche-Comté region, France
Sales Office