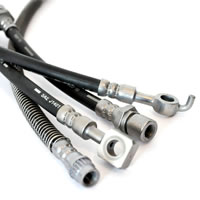 A lot more than just

safety.
GOMMA Line has a modern production equipment, assembly and testing of brake hoses and hoses for hydraulic clutch systems. Products produced in our plants suit demanding international standards (SAE J 1401, FM VSS 106, ISO 3996), as well as all the technical requirements and standards.
Car manufacturers

trust our quality.
Our brake hoses are installed in the most known car models from Renault Nissan AvtoVAZ Group and UAZ. The fittings which we use have ZnNi alloy surface protection, and they are designed to meet the strictest demands of corrosion resistance (more than 1000 hours until the appearance of base material corrosion) as well as all environmental protection requirements.